Billboard also called a Hoarding in the India, UK  and many other Countries of the world is a Large Outdoor Advertisement Structure , Typically found in High-Traffic Areas Such as Alongside Busy Roads. Searching For Outdoor Media Space in most of the Asian Counties Is Physically Time Taking Task.  While more and More People Are Looking for Outdoor Advertising Agencies, Getting the Ad Space Immediately to Serve Their Purpose Has Become Difficult. Most of the (SME's) Small and Medium Companies Stay on a Lookout for Outdoor Advertising Agencies, Because Finding Outdoor Media Resources Immediately to Serve Their Purpose while Meeting Budget Constraints has Become Difficult.  Its Highly effected in High Population countries like India and other Asian countries there is lot of gap between Buyers and Media owners, This is where Connect Hoardings Market Place, the Online Booking Web Portal and Mobile APP Marketplace for Out of Home Media steps in, Simplifying Procedures for Booking Vacant Hoarding Spaces Over its Easy to Use Online Portal.
Our First and Glorious Steps we started Merahoardings.com in Asian Countries. It is An Online Marketplace for Outdoor Advertising. It has Been Designed as an Essential Tool for Hoarding Advertising Space Buyers, Media Owners and Outdoor Advertising Agencies. Mera Hoardings Aggregates Outdoor Media Inventory and Facilitates a Media Plan for Billboard Advertising. Its India's First Online Marketplace for Out of Home Advertising, and Keeps the Outdoor Media Booking Environment Impartial and Neutral.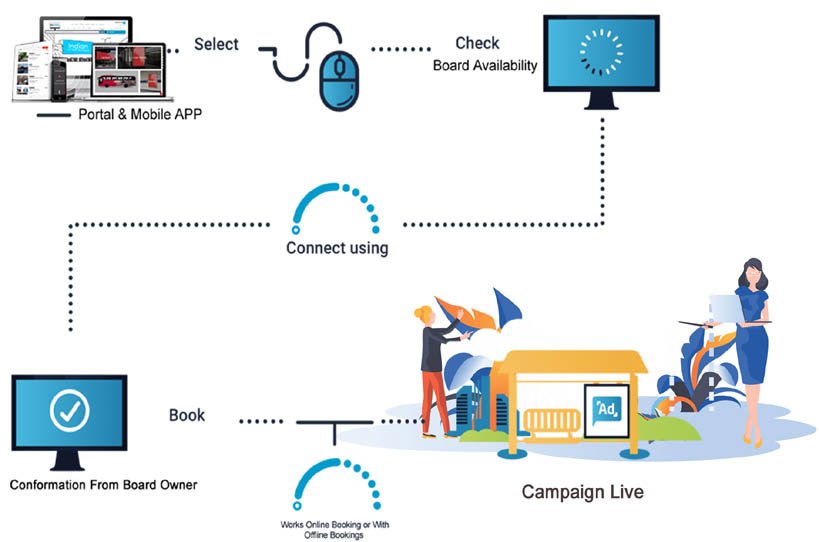 Merahoardings.com is Asia's First Out of Home Online Advertising Platform. We have the Widest Assortment of 90,000+ Hoardings or Billboards, Across 25000+ Diverse Outdoor Media Owners from number of Locations, Towns, States and Hoarding Advertising Companies.
Starup in 2015, We are Focused Upon Simplifying The Planning, Booking And Execution for Outdoor Advertising and Boosting Its Efficiency And Connectivity. Our Online Platform for Advertisements Booking Powers Some of the Biggest Outdoor Media Owners, Both in the India and Abroad, and we're Growing All The Time. Our Desktop & Mobile APP Marketplace Platforms Supercharges their Sales and Helps Manage Outdoor Inventory to let our Media Owners Effectively Connect to New Markets. In short, we're Bringing this Traditionally Offline OOH Industry into a New Era of Digital Age.
Mera Hoardings Android and IOS Mobile APP + OOH Integration is a Result of Extensive Industry Research and HelloooH Team's Vast Experience in Outdoor Advertising, Marketing and Information Technology.
For Outdoor Media Buyers, Mera Hoardings Provides a Streamlined Interface that Allows Booking of an Hoarding Advertising By any of the Multiple Media Owners with Just a Few Clicks of a Mouse. Customers Can Identify The Best Price And Audience Reach Combinations, Filtered By Demographics, Location, and Negotiate Pricing In Real-Time.
For Media Owners (Hoarding Companies), Mera Hoardings Facilitates an Instant Contact in Between Regional or National Outdoor Media Buyers and Advertising Agencies. Hoarding Advertising Companies have Complete Control Over their Outdoor Media Inventory and can Achieve Optimal Pricing by Negotiating Rates in an Impartial Trading Environment.
Outdoor Advertising Agencies Benefit from Consolidating an Entire Outdoor Media Campaign Planning Process, Using the Platform's Continually Updated Database. Administrative Tasks Such As Outdoor Inventory Management, Booking Of Advertising Space And Time Requirements Associated With This Process Are Streamlined And Optimized Considerably.
Our Online Booking Services Play An Active Role In Disseminating Information For Our Customers. With Our Marketplace Services, The Buyers' Target Audiences Stay Informed Over Their Products, Services And Related Activities. This Is Enabled Through Various Outdoor Media Implements, Such As Hoardings, Billboards, Unipoles, Flyover Spans, Gantries, Arches, Road Medians  Dooh,  Bus Shelters, Train Advertising, Bus Branding, Auto or Cab Moving Ads and Metro Pillar Advertising etc..
OUR MISSION:
Our Mission Is To Connect All Indian Outdoor Media And Make It Online And Universally Accessible For Future Growth Of Indian Outdoor Industry
OUR VISION:
Delivering A Digitalized Platform For Outdoor Advertising Booking and Hoarding Advertising Campaigns Which Boosts Accessibility of Information To Speed Up And Refine The Process of Decision Making, Improve Sales And Foster Growth.
OUR VALUES:
Our People Enjoy A Personal Stake In Our Continued Success And Take Pride In What We Do.